Posts for tag: gum disease
By Dr. Saad's Dental Center
September 30, 2018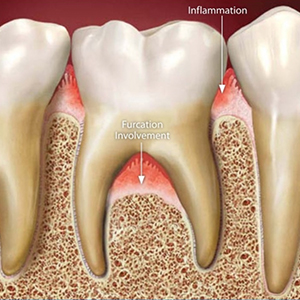 Periodontal disease may start in the gums' superficial layers, but it's not likely to stay there. As the disease moves deeper it can wreak havoc on tooth roots and bone as well as gum tissue attachments. Teeth with multiple roots are in particular peril because of the "forks" called furcations that form where the roots separate from each other. Infected furcations can be very difficult to treat.
We primarily treat gum disease by removing its main source, a thin film of bacteria and food particles called dental plaque that builds up on teeth. To remove it we most often use special hand tools or ultrasonic equipment to vibrate it loose. As the plaque and tartar diminish, the infection begins to wane.
But we can't be completely successful in stopping the disease if any lingering plaque deposits remain. This especially includes furcations where the infection can cause significant damage to the roots. Although cleaning furcations of plaque can be difficult, it's not impossible with the aforementioned tools and antimicrobial substances to disinfect the area.
The real problem, though, is access—effectively getting to the furcations to treat them. We may need to perform a surgical procedure called flap surgery where we create a hinged flap in the gum tissue to move it aside and access the root area beneath. Afterward we replace the flap and suture the tissue back in place.
In some cases, the infection may have already caused significant damage to the tissue and underlying bone. We may therefore need to graft gum or bone tissues to these damaged areas to stimulate re-growth. We may also need to surgically reshape the gum attachments around a tooth to make it easier in the future to access and clean the area.
These additional treatments around furcations can be very involved and labor-intensive. That's why the best outcomes occur if we're able to start treatment in the early stages of an infection. So, if you notice red, swollen or bleeding gums contact your dentist as soon as possible. Treating gum disease as early as possible will help ensure your tooth roots won't suffer extensive damage.
If you would like more information on treating gum disease, please contact us or schedule an appointment for a consultation. You can also learn more about this topic by reading the Dear Doctor magazine article "What are Furcations? Branching Tooth Roots can be Periodontal Nightmares."
By Dr. Saad's Dental Center
September 06, 2017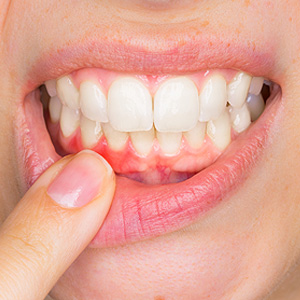 September is National Gum Care Month. Did you know that advanced periodontal disease is the number one cause of tooth loss among adults? Periodontal disease refers to any disease that affects the structures that hold the teeth in place, including gums, ligaments and bone. In its earliest stage, called gingivitis, the gums become inflamed. When it progresses to periodontitis, both soft and hard tissues that hold the teeth in place are affected, threatening the integrity of the teeth. Some people are more susceptible to periodontal disease than others. Here are some common risk factors:
Poor oral hygiene. Plaque buildup is the primary cause of gum disease. When life gets busy, we may be less diligent about our oral care. This allows bacteria in the mouth to form a biofilm (plaque), which causes inflammation of the gums.
Heredity: Some people are genetically more predisposed to gum disease. Look at your family history. Have any of your relatives had gum disease or lost their teeth?
Pregnancy. Gums are sensitive to hormone fluctuations, and it is not uncommon for pregnant women to experience an inflammation of the gums known as "pregnancy gingivitis." Gingivitis — characterized by red, swollen gums that bleed easily — is the beginning stage of gum disease.
Age: The chance of developing gum disease increases with age. Over 70% of Americans 65 and older have periodontitis, an advanced form of gum disease, according to the U.S. Centers for Disease Control and Prevention. This may be influenced by other diseases, medications that cause dry mouth, or other causes of plaque buildup.
Diet: Eating too many simple carbohydrates (those found in sugar, white bread, white rice and mashed potatoes, for example) is linked to chronic inflammation in the body, which increases the risk of gum disease.
Smoking: Smoking is a significant risk factor for the development and progression of gum disease. Since nicotine constricts blood vessels, smokers may not see the typical symptoms such as red, puffy, bleeding gums, so the disease may cause damage before smokers realize there is a problem with their gums.
Diabetes: Uncontrolled diabetes puts you at higher risk of periodontal disease. Not only can diabetes make gum disease worse, gum disease can make diabetes symptoms worse.
Our aim is not to scare you but to help you become aware of factors that can increase your risk of gum disease. Many of these factors are not under your control. However, you can do your part to prevent gum disease by staying on top of the things you can control. Let us know about any new medications you are taking, eat a balanced diet rich in complex carbohydrates and other nutrients and, if relevant, manage your diabetes and explore programs that will help you quit smoking.
Fortunately, good oral hygiene and regular professional cleanings can turn early gum disease around, so if you have any of the risk factors that contribute to periodontal disease, be extra diligent about your oral hygiene routine. And make sure you come in for regular dental checkups and cleanings. If you show signs of gum disease, we may recommend that you come in for more frequent cleanings.
To learn more about risk factors for gum disease, read the Dear Doctor magazine articles "Assessing Risk for Gum Disease" and "Pregnancy and Oral Health."